David Cloutier Lecture on September 22nd
August 16, 2022
|
Ecumenical Institute News
On Thursday, September 22nd 2022 at 7pm, St. Mary's Ecumenical Institute will host a lecture by David Cloutier, Ph.D., entitled, "Is Anything Natural? Understanding the Concept of Nature in an Age of Frenzy."
A native of Chicago, David

Cloutier

is a professor of moral theology at the Catholic University of America in Washington, DC. He is the author of several books, including the award-winning Walking God's Earth: The Environment and Catholic Faith and Reading, Praying, Living Pope Francis' Laudato Si, both published by Liturgical Press. He writes frequently for Commonweal and has a quarterly column on Catholic social ethics for U.S. Catholic magazine. He also served for 10 years on the Board of Director of The Common Market, a consumer food co-operative in Frederick, MD. He is married to Melissa Moschella, a philosopher at CUA, and they reside in Hyattsville, MD, where they both enjoying singing in church choirs and using DC's great network of trails for running and biking.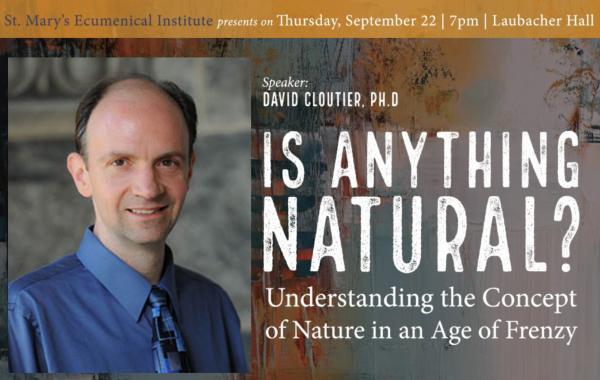 BACK TO NEWS
Most Recent Posts
2022 Annual Dunning Lecture, featuring Edgardo Colón-Emeric
The 2022 Dunning Lecture will be held on Thursday, November 10th at 7:30 p.m. in Laubacher Hall. Event is free to join in person or online, but registration is requested 2022dunning.eventbrite.com Edgardo Colón-Emeric is the Dean of Duke Divinity School and the Irene and William McCutch...
Read More
Conference Coming in 2023
From June 8-10, 2023, St. Mary's Seminary & University will host a conference titled "The Primacy of God in a Secular Age: On the Theological Virtue of Faith." The conference is sponsored by The Sacra Doctrina Project in partnership with SMSU. Featured Speakers will be: Lawrenc...
Read More