Gorman Book Launch on May 27
May 13, 2015
|
Ecumenical Institute News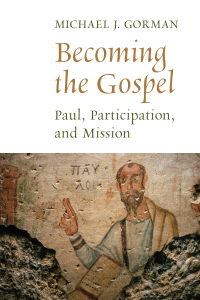 On Wednesday, May 27, at 7 pm, Dr. Michael Gorman, Raymond E. Brown Chair in Biblical Studies and Theology at St. Mary's Seminary & University in Baltimore, will offer a short overview of his latest book, Becoming the Gospel: Paul, Participation, and Mission. Dr. John Franke of The Gospel and Our Culture Network will respond, and Stephan Bauman of World Relief will tell how his new book, Imagine What Is Possible, grew out of Gorman's. There will follow a general discussion between them and attendees, with book signing to follow (In addition to Becoming the Gospel and Imagine What is Possible, Hearts and Minds bookstore will have a selection of other Gorman titles available. )
The event is free and open to the public. It will be held in Laubacher Hall on the St. Mary's campus. For a sense of what's in store, check out Dr. Gorman's interview with Eerdmans.
BACK TO NEWS
Most Recent Posts
2022 Annual Dunning Lecture, featuring Edgardo Colón-Emeric
The 2022 Dunning Lecture will be held on Thursday, November 10th at 7:30 p.m. in Laubacher Hall. Event is free to join in person or online, but registration is requested 2022dunning.eventbrite.com Edgardo Colón-Emeric is the Dean of Duke Divinity School and the Irene and William McCutch...
Read More
Conference Coming in 2023
From June 8-10, 2023, St. Mary's Seminary & University will host a conference titled "The Primacy of God in a Secular Age: On the Theological Virtue of Faith." The conference is sponsored by The Sacra Doctrina Project in partnership with SMSU. Featured Speakers will be: Lawrenc...
Read More