Rev. Fleming Rutledge to Speak at the E.I.
October 16, 2015
|
Ecumenical Institute News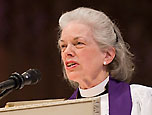 On December 9, 2015 the Ecumenical Institute will host the Reverend Fleming Rutledge, who will speak about her latest book, The Crucifixion: Understanding the Death of Jesus Christ. Rev. Rutledge, an Episcopal priest, is widely recognized in North America and the UK as preacher, lecturer, and teacher of other preachers. Her published sermon collections have received acclaim across denominational lines. Two members of the Ecumenical Institute faculty will respond: The Rev. Dr. Amy Richter, Professor of Biblical Studies and rector of St. Anne's Episcopal Church in Annapolis, and Dr. Michael J. Gorman, Raymond Brown Professor of Biblical Studies and Theology. (Rev. Rutledge studied with Fr. Raymond Brown, S.S.)
The lecture will take place in The Forum on the St. Mary's campus beginning at 7 pm. Doors will open at 6 pm. Rev. Rutledge's books will be available to purchase through Hearts & Minds Books of Dallastown, PA, and a book signing will take place after the lecture.
Seating in The Forum is limited. Thus, while the lecture is free, tickets will be required. Please CLICK HERE to register and obtain tickets.
BACK TO NEWS
Most Recent Posts
2022 Annual Dunning Lecture, featuring Edgardo Colón-Emeric
The 2022 Dunning Lecture will be held on Thursday, November 10th at 7:30 p.m. in Laubacher Hall. Event is free to join in person or online, but registration is requested 2022dunning.eventbrite.com Edgardo Colón-Emeric is the Dean of Duke Divinity School and the Irene and William McCutch...
Read More
Conference Coming in 2023
From June 8-10, 2023, St. Mary's Seminary & University will host a conference titled "The Primacy of God in a Secular Age: On the Theological Virtue of Faith." The conference is sponsored by The Sacra Doctrina Project in partnership with SMSU. Featured Speakers will be: Lawrenc...
Read More